July 29, 2019
As reported by Ron Cassie and Evan Greenberg on Baltimoremagazine.com. 
Founded in 1911, Porcelain Enamel Manufacturing—later known as Pemco International—made porcelain and enamel coating for kitchen tiles and household appliances for nearly a century in Baltimore before shuttering its massive Eastern Avenue plant in 2006. They also produced Howard Johnson hotel's distinctive orange roofing tiles. Since closing, however, the vacant Greektown industrial site has been beset by vandalism, fire, and growing environmental concerns.
That's about to change.
Yard 56, a 20-acre, mixed-use project at the former Pemco site, is expected to open its first phase—a retail center including an upscale Streets Market & Café grocery store and LA Fitness facility, among other shops and restaurants—by 2020. Plans for Phase II include a variety of office spaces, residential units, more retail stores, and a hotel. It's exactly the type of development many residents of Bayview and Greektown have been clamoring for since the manufacturing giant moved its operations south, says Bayview community leader Mike Ball.
"This is going to completely change the landscape on this side of town," Ball says. "We want to see a transformation happen in this neighborhood."
Construction remains underway at the sprawling site, situated directly across from Johns Hopkins Bayview Medical Center, but developers expect most retailers will be up and running between the end of this year and early 2020.
Ball grew up in Bayview and has lived in the neighborhood for most of his life. He's seen the impact that developments like Canton Crossing and McHenry Row have had in their respective areas, and believes that Yard 56 can produce similar results, benefitting current residents while attracting newcomers to the community.
Ball adds he believes that plans for a new craft beer bar, The Brass Tap, will fill what he feels is a much-needed tavern space in community. Other announced tenants include Panda Express, Chipotle, Starbucks, and Nektar Juice Bar. As of right now, no locally owned tenants have been announced, but developers expect more announcements in the coming months.
"This isn't just like we're building a strip center with a grocery store," says P. David Bramble of MCB Real Estate, which took the development lead on the project and worked with Bayview and Greektown community leaders, as well as citizens to tailor it to their interests. "This is a massive investment that is going to attract people from all over the city and outside the city."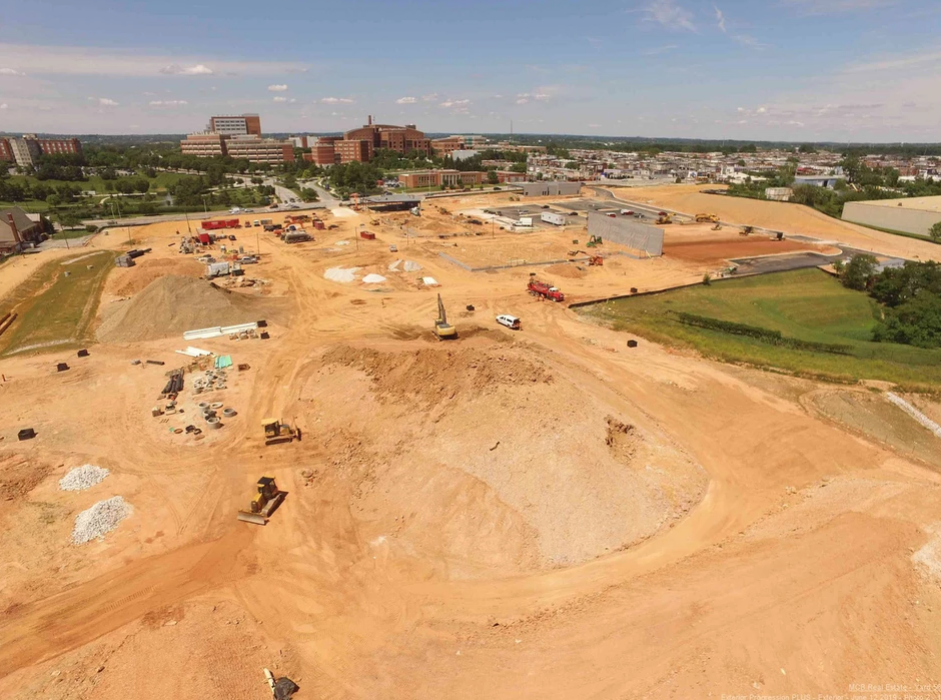 Yard 56 comes a few years after community leaders and activists blocked an effort by other developers to bring a Walmart to the Pemco location. "A Walmart would've swallowed up nearby small businesses and no one wanted that," says Jason Filippou, a Bayview resident and Southeast Community Development Corporation board member. "People wanted investment. It wasn't a NIMBY thing. But no one wants to lose the neighborhood's identity. This will add density. It's why people live in cities—it's the convenience of being close to stores, shops, restaurants, and everything else."
Bramble says he's excited to see how the development evolves and fits into neighbors' daily routines.
"By pushing uses together you create synergy, and start to create a sense of place," Bramble says. "You're not just going to a shopping center to buy some groceries and pick up your dry cleaning. Now you're going to a place you can enjoy a restaurant or meet a friend, maybe go to a meeting and walk across the street and have a drink. You're going someplace."
It goes without saying, too, Yard 56 will be a marked improvement from what it is replacing—the dilapidated former manufacturing plant that Bramble called a "blight" on the community. The environmental remediation alone is estimated to cost $15 million.
If all goes as planned, the development will not just serve local residents, but the thousands of employees at Johns Hopkins Bayview Medical Center, providing a potential place to gather, as well possibly housing opportunities in the apartment units to come.
"I think you have to look at Baltimore as a city of neighborhoods, but we also have to be thinking one level above that," Bramble says. "We're making sure that you are really creating a place that people will want to come back to and spend some time. It will mean a lot to the city of Baltimore."